State officials and advocates seek to hold cities and counties accountable for their new homebuilding goals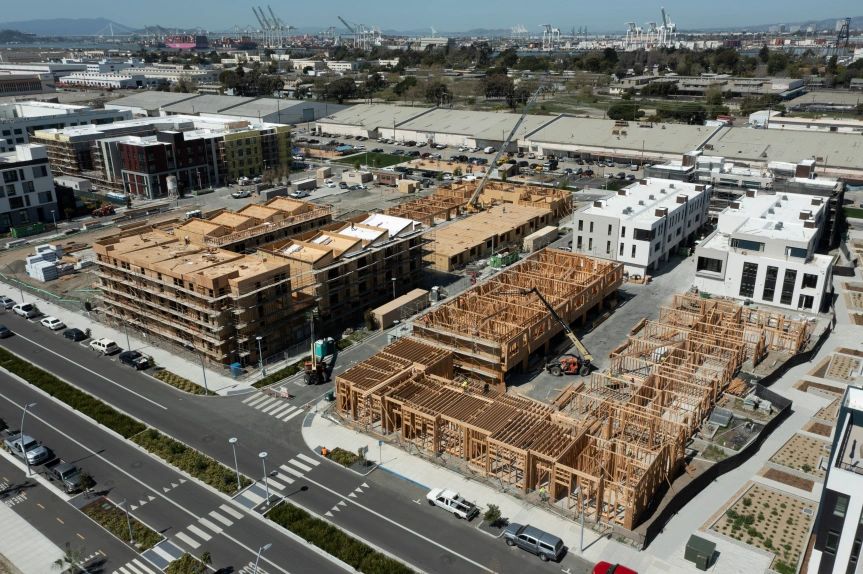 PUBLISHED:  | UPDATED: 
Can the Bay Area build its way out of a deepening housing crisis? Should it?
Many experts and officials say constructing more homes — and a lot of them — is the only way to meet the region's increasingly dire housing needs for people of all incomes.
Between now and 2031, state regulators are insisting the Bay Area add over 441,000 new homes of all kinds — a roughly 15% increase in the region's total housing stock.
"The homelessness crisis that's confronting many people is the clearest evidence of the fact that there's a shortage of housing," said Daniel Saver, an assistant director with the Association of Bay Area Governments, a regional agency that helps set local housing goals.
Every eight years since 1969, California has required cities and counties to submit detailed plans for how they would accommodate a specific number of homes across a range of affordability levels. But during recent housing cycles, most local governments haven't come close to hitting their low- and middle-income homebuilding targets. Meanwhile, rents and home prices in the Bay Area exploded, stoked by the region's rapidly growing economy and a flood of new high-paying jobs.
To reverse that trend, state officials and housing advocates have made clear they intend to hold cities and counties accountable for their new homebuilding goals. And local governments are already feeling the repercussions.
Here's what's behind the push to build significantly more apartments, condos and single-family homes across the Bay Area, and how officials and experts believe the region should follow through on that effort.
"We're playing a large game of musical chairs," said Louis Mirante, vice president of public policy at the pro-business group Bay Area Council. "When you have 10 people who want to live in a city, and you only have nine chairs, the competition … is only going to get steeper and steeper."
How did the state come up with the new homebuilding target?
State regulators set the Bay Area's homebuilding target of 441,000 new units based on a complicated formula meant to determine how much more housing is needed for the region's current and future population. The Association of Bay Area Governments then divvied up that number among local cities and counties.
Ahead of the current housing cycle, which started Feb. 1, state lawmakers passed legislation that doubled the Bay Area's total goal compared to the previous eight years. Specifically, the increase was required to account for the number of people living in overcrowded homes, which experts agree has been exacerbated by a severe shortage of affordably priced housing.
That, in turn, has boosted how many homes most local governments must prepare for in housing plans dubbed "housing elements." The bulk of the new homes are set for the region's population centers near jobs and transportation — including in San Jose, Oakland and San Francisco. But suburban and rural areas also must plan for more housing.
What happens to cities and counties that fail to plan for enough homes?
The state has launched new housing enforcement teams, and is threatening fines, withholding affordable housing funding and the loss of permitting authority for local governments that skirt their housing responsibilities.
Housing advocates have also sued 11 local cities and Santa Clara County for failing to submit adopted housing element plans to the state by a Jan. 31 deadline. One of the goals of the lawsuits is to ensure those jurisdictions are subject to the so-called "builder's remedy" — a provision in state housing law that could enable developers to override local zoning rules and push through projects of virtually any size in areas without a state-approved housing plan.
As of Tuesday afternoon, just 38 of the region's 109 cities and counties had submitted adopted plans. And only four of those plans — from San Francisco, Emeryville, San Leandro and the city of Alameda — had received final approval from the state.
What about strains on water infrastructure, traffic impacts and wildfire risk?
Planning officials and experts say that by focusing new housing in areas with existing water infrastructure, cities can manage concerns about sewer capacity and drought. But the region must also bolster water conservation technology in homes while finding sustainable ways to increase supply.
As for traffic, plans to build housing near transportation hubs should reduce congestion, as well as greenhouse emissions, officials and experts say. And prioritizing denser housing in city centers means less sprawl into high-fire-risk areas. But with large Bay Area cities among the slowest to recover from the pandemic anywhere in the country, concerns remain about how many people will want to move to those urban areas.
Isn't the Bay Area's population shrinking? Do we really need more homes?
Experts and advocates say the fact that the Bay Area's population shrunk by around 2.5% between 2020 and 2021 could actually be evidence the region should be building more housing, not less. They argue that the high cost of housing is among the main reasons people are picking up and leaving. And the best way to bring down costs? Add more homes for people of all incomes.
How many homes did the Bay Area build in the last housing cycle?
Between 2015 and 2023, the Bay Area permitted about 190,000 units, according to state housing data. While the region soared past its goal for residents with "above-moderate" incomes, it approved just 44,000 homes for low- or middle-income residents, well under half the combined target for those groups.
How many affordable homes does the region have to plan for?
The Bay Area must plan for over 180,000 homes for people with low or very-low incomes. That comes to 41% of the region's total goal. In Santa Clara County, for example, a low income is defined as less than $101,100 a year for a family of four. A very-low income is less than $84,250 for a family of the same size.
How can the Bay Area make sure it meets its housing targets?
Experts and advocates have long maintained cities must reform the often years-long planning and approval process for new housing, which can add crushing costs to affordable and market-rate homes. They also want to see local zoning rules relaxed to allow denser housing in more areas.
And to boost chronically underfunded affordable housing? Advocates and officials are working toward bringing an unprecedented Bay Area affordable housing bond worth up to $20 billion before voters in 2024.