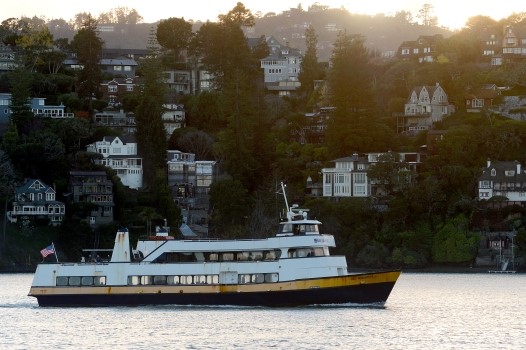 Homes on Belvedere Island stand behind the Blue and Gold Fleet ferry Bay Monarch as it arrives in Tiburon on Tuesday, Dec. 14, 2021. (Alan Dep/Marin Independent Journal)
By WILL HOUSTON | whouston@marinij.com and GIUSEPPE RICAPITO | gricapito@marinij.com |
PUBLISHED: January 27, 2023 at 6:30 p.m. | UPDATED: January 27, 2023 at 6:47 p.m.
Two Marin cities are facing lawsuits over their handling of housing plan updates.
In two separate suits filed in Marin Superior Court on Wednesday, Novato and Belvedere are accused of violating state law by failing to give the state time to review their adopted plans to accommodate more homes.
Filed by the Californians for Homeownership, a nonprofit corporation, the litigation states the two cities adopted their housing plans on Tuesday prior to the state Department of Housing and Community Development completing its mandated 90-day review period.
The nonprofit wants the court to invalidate the housing plans until the state completes its review of them.
If the request is granted, the two cities would lose the ability to apply local zoning and housing standards to certain housing applications for at least three months.
Californians for Homeownership attorney Matthew Gelfand said the lawsuits were filed to highlight that significant housing policies must undergo proper vetting by the state and the public.
Novato and Belvedere are two of four Bay Area cities that the group has sued. The others are Pinole and Richmond.
"We told all these cities that we would sue them immediately if they did this and perhaps some of them thought we were bluffing. But we weren't," Gelfand said. "It was really important to us to send a message that this kind of behavior is not acceptable."
The state set a Jan. 31 deadline for cities and counties to submit their housing plans, formally known as housing elements. The elements are state-mandated documents required of municipalities to show how they plan to meet existing and projected housing needs over an eight-year period.
The new plans are for the 2023-2031 period and include a significant increase in required housing numbers compared to previous cycles.
Prior to adoption, the state requires housing plans to be submitted to the Department of Housing and Community Development for a review of up to 90 days to determine if they comply with housing laws. The cities then take feedback from the state to make revisions before adopting the plan.
According to the lawsuits, Belvedere officials chose not to submit a draft plan to the state before adopting it on Tuesday. In Novato, city officials there submitted a plan to the state on Jan. 12 and adopted it on Tuesday, before the state could complete its review.
Novato City Manager Adam McGill declined to comment, citing the litigation.
Belvedere Mayor Jim Lynch said city officials believe their process "meets or exceeds all mandatory state provisions and guidelines" for the Regional Housing Needs Allocation, the state process that assigns each municipality its share of new housing creation.
"We expect comments to Belvedere's submission and will make appropriate revisions. Our document is exceptionally thoughtful and detailed, exceeds the minimum RHNA allocation, and meets the state's standards and objectives for this housing cycle," said Lynch.
Lynch said the city could not comment specifically on pending litigation.
The state has called for Belvedere to allow 160 new residences over the next eight years. This includes 49 very-low-income dwellings, 28 lower-income, 23 moderate-income and 60 above-moderate-income.
The city has provided for 228 total residences, according to its draft housing element adopted on Tuesday. It includes 59 very-low-income dwellings, 28 lower-income, 23 moderate-income and 60 above-moderate-income.
Lynch said the city had "unique obstacles," including "a fully built-out community of approximately 2,100 residents." The city's housing element relies on undeveloped parcels, such as a parking lot near St. Stephen's Episcopal Church, as well as in-law apartments.
"In the absence of vacant property, we had to document that our designated sites were likely to be developed with housing within the next eight years," he said. "We knew early on that the public outreach process would be a critical step in finding such sites. Understandably, it took months of engagement with residents and neighborhoods to arrive at a solution that preserved Belvedere's charm, while meeting the state mandate."
Alicia Murillo, a spokesperson for the state housing department, said the agency was unable to comment on the suit filed against the city. As of Friday, she said the state had not received a housing element from Belvedere and thus had not reviewed its content.
"While jurisdictions are required to submit a draft prior to adopting elements, HCD will review all housing elements submitted to the department," she said. "If a jurisdiction failed to submit a draft prior to adopting, HCD notes that in the review and reminds the city that they still must consider the department's findings."
The California Housing Accountability Act, passed in 2017, states that cities or counties that do not have a "substantially compliant" housing element are not allowed to use local zoning or general plan standards to reject housing proposals that meet certain affordability requirements.
Eligible projects would include those that have at least 20% of residences designated for low-income residents or those that have 100% of the homes priced for residents at moderate incomes.
If the court rules against Novato, the city would not be able to legally adopt its housing element until at least April 12. Belvedere would not be able to use its standards until the state completes its 90-day review.
Jenny Silva, a Sausalito Housing Element Advisory Committee member, cautioned the Novato council on Tuesday that submitting the plan prior to the state review would violate the law and expose the city to litigation.
The Californians for Homeownership along with representatives from the YIMBY Law and California Housing Defense Fund groups emitted similar warnings in letters to the city on Monday and in mid-December.
"I think that the state will probably reject this element," Silva told the council before it voted to approve the plan. "I don't think you're saving anything by pushing it through inappropriately."
The council and city staff did not address the comments during the meeting.
The state is calling on Novato to allow 2,090 new homes at varying affordability levels between 2023 and 2031. The city is not required to build the homes itself but facilitate the development through rezoning, policy changes and compliance with various state housing laws.
David Bergman, a consultant that helped draft the plan, said the state allows projects that are already in the pipeline, such as those that submitted applications or received city approval or entitlements, to be counted toward that number.
In Novato, the city has nearly 2,500 residences already being reviewed. The largest of these projects is the proposed conversion of the former Fireman's Fund Insurance campus at 777 San Marin Drive to a 1,081-home neighborhood.
"Novato has been fortunate as a city to see a fair amount of interest in residential development in the community," Bergman told the council.
That said, the city is required to meet a quota on housing numbers in various affordability levels and falls 19 dwellings short in the moderate-income category.
To address this, the city plan calls for rezoning two properties: a vacant San Marin parcel at Meadow Crest Road and Wood Hollow Drive that was originally slated for office developments; and an office building at 1682 Novato Blvd. that city staff said has high vacancy and whose owner wants to redevelop into multifamily housing. Combined, the parcels could accommodate 42 moderate-income homes, Bergman said.
The council is expected to decide on the rezoning changes in April or May, according to city Community Development Director Vicki Parker.
Novato's plan also includes policy changes to promote housing development. Strategies include streamlining the construction of in-law apartments, formally known as accessory dwelling units; revising the city's regulations for developments on hillsides and ridgetops; working with utility providers to reduce fees for developments such as new water connections; and reducing fees for affordable housing projects.
The plan also calls for extending just-cause eviction protections to tenants renting single-family homes; requiring non-binding mediation with the county for rent increases greater than 5%; and providing assistance for pet-owning tenants. The plan now also calls for the council to develop a policy around long-vacant homes.
Will Houston covers environment, transportation, West Marin and the city of Novato for the Marin IJ. He covered environment, cannabis and county government for the Eureka Times-Standard and was a contributor to the Monterey Herald. He graduated with a Bachelor of Science degree in biology from San Diego State University. Reach the author at whouston@marinij.com or follow Will on Twitter: @Will_S_Houston
  Follow Will Houston @Will_S_Houston