On the Table Community Conversation on Housing
November 15, 2017 @ 6:30 pm

-

8:30 pm

Free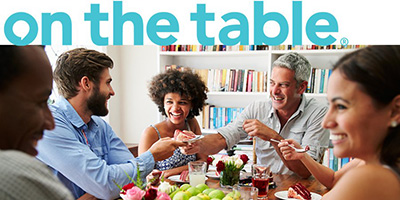 Join us in conversation about the reality of the current housing crisis, as part of the Silicon Valley Community Foundation's (SVCF) valley-wide event, On the Table. The goal of On the Table is to bring together residents of Silicon Valley to discuss how we can work together to find solutions to the housing challenges facing our region.
If you live in Silicon Valley, you're affected by the current situation. Whether it's paying high rent, living with roommates, commuting long distances in heavy traffic or struggling to find any housing option at all—the lack of affordable housing impacts everyone. Median home values have now surpassed $1 million for the San Jose area. It is becoming harder and harder for first-time home buyers to purchase a home. Rental prices continue to soar and employers are challenged to retain employees, fewer of whom can afford to live within commuting distance of their jobs.
We all have a stake in addressing these challenges. With On the Table, we hope to get people talking about the problems and brainstorming about solutions that both residents and policymakers can put into action.
The conversation is open to the community and everyone is invited to join in.
Featured Speaker Peggy Jensen is a Deputy County Manager in San Mateo County and oversees the county housing initiatives including county funding for affordable housing, tenant assistance programs, services for homeless residents and the countywide Home for All collaboration. In addition, she is also the liaison to the County Health System, sits on the Board of the County of San Mateo Health Plan and oversees the work of the San Mateo County Office of Sustainability.
Prior registration is required.
Refreshments will be provided.
In partnership with the Silicon Valley Community Foundation and JCRC.

Tickets are not available as this event has passed.